---
Myst
Few are chosen. Fewer succeed. Journey now to an island world surrealistically tinged with mystery where every vibrant rock, scrap of paper, and sound may hold vital clues to your unravelling a chilling tale of intrigue and injustice that defies all boundaries of time and space.
Only your wits and imagination will serve to stay the course and unlock the ancient betrayal of ages past.

Skärmdumpar från Myst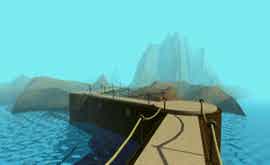 ---
About Brøderbund
Brøderbund Software is located at
500 Redwood Blvd.
Novato, California, 94948
Brøderbund is now a part of The Learning Company, Inc.

Brøderbund was founded by Doug and Gary Carlston in 1980, when the personal computer software industry was still in its infancy. The brothers established the company in order to market Galactic Empire and Galactic Trader, computer game programs Doug had written in his spare time when he wasn't practicing law.
By the summer of 1980, after forming an alliance with the Japanese software house StarCraft, the company was able to market a substantial line of home entertainment products. Before the end of its third year, Brøderbund had moved from Eugene, Oregon, to California's Marin County, had grown to more than 40 employees and was selling millions of dollars' worth of software annually.
Cathy Carlston, Doug and Gary's sister, joined the company in 1981. Until her departure in 1989, she served as vice president of educational market planning and was instrumental in formulating Brøderbund's marketing efforts to schools. Gary Carlston, the firm's first CEO, also left in 1989 to pursue other interests. In 1996, Joe Durrett joined the company as CEO, bringing with him a strong tenure as president and COO of ADVO, Inc. and more than two decades in senior marketing and sales at Kraft General Foods.
Brøderbund Software, a division of the Learning Company (NYSE: TLC), develops, publishes and markets a broad line of interactive software for use in homes, schools and small businesses. Since its founding in 1980, the Company has repeatedly broken new ground, conceiving and developing families of software products with enduring customer appeal based on creativity, innovation and ease-of-use. Brøderbund is committed to providing its customers with engaging products that set quality standards and take advantage of the latest technologies.